We celebrate teachers day on the 5th of September to show gratitude towards our teachers who gives the way to success in our life, we also celebrate the birthday of  Sarvepalli Radhakrishna on this day. A great teacher has all ability to develop you single handly they are the people who are sent by god to lead the way for us. Here we have brought so many marvellous wishes for teachers from students, teacher day quotes for a favourite teacher, inspirational messages for teachers day.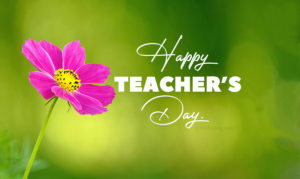 Teachers Day Messages, Wishes and Quotes
Teachers are all a student need to succeed.
Teachers are lights on the path of every student.
Being a Teacher is simply giving life for others to be something greater.
Teachers give their all to make their students grow.
good teacher contributes more than parents to a student accomplishment.
They're addicted to helping their students.
Teachers are the bridge between you and your success.
There was no hope to be something before my mentor.
Teachers are the protector of our dreams.
Teachers are gods because they are also creators.
Teachers doesn't just teach us to hold a pen but also to hold the future and build in our way.
Thanks for always being with me on my journey.
I learn from you how to forgive others mistakes you forgive me for mine.
Its always been an honour to study with you.
Some words can't express my gratitude towards you.
You give me the courage to stand on and walk on the path of my dreams.
Teachers are guides when you lost the path.
You just don't help me to fulfil dreams but also you made me see dreams.
I don't know whether I'll be able to pay you back or not but I want to do so many things for you.
It's hurt most when you are disappointed due to anything.
Backbenchers teases teachers but also respect them the most.
The process becomes beautiful after learning from you.
I have learnt so many things from many people but what I have learnt from you is unforgettable.
I want to pay you back but I know it's not possible.
Respect for you increases on another level when you become my friend when I need it.
Your praise words for me, give me confidence.
Teachers don't want you to be always on top but they always want you to improve.
A teacher is not only those who teach us subjects but the teacher is also the moment of life which teach us lessons.
When teachers are treating you special means they are happy with your work.
Teachers are like the moon they set a light on our life.
Top 50+ Heartfelt Farewell Messages For Your Employees and Co-workers