Status and quotes on INDEPENDENCE DAY
Here are some Best Status and quotes on INDEPENDENCE DAY
On 15th August we celebrate our freedom and call it independence day, which we received in form of a gift in a change of our martyr's life. On this day we thank and salute their courage to fight against injustice to give freedom and their future generations wing to fly to live without restriction and boundaries. Here we bring proud independence day quotes, independence day wishes, independence day status. Best Status and quotes on INDEPENDENCE DAY
They win over because they were not ready to give up at death cost.
This sky had been witnessed of our heroes strength and bravery.
Like our fighters we also won't see what's possible or not we just proceed to achieve it.
I must say after seeing their enthusiasm fear must be scared.
We salute and love our mother India with all our hearts.
Rich culture, religion and unique natives make India different.
No matter how much we fight but when it comes to the country we always unite.
On this day we are born again.
————–Best Status and quotes on INDEPENDENCE DAY—————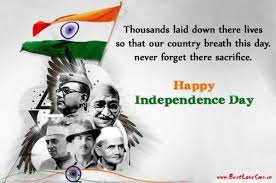 Independence day remind us about the sacrifice of people who give their all to give us this freedom and peace.
Armies on borders every day wrote love stories with their blood.
I'm proud to be Indian not because of what we have it's because of our journey from nothing.
On this day we celebrate our winning over violence and slavery.
I'm proud to be a native of my freedom fighters.
This soil gives the courage to stand again and again after falls like our freedom fighters.
India is not a country it's our home our feeling.
Sky seems most beautiful when my country flag flutters on it.
They lose their life to give their future generations a peaceful environment to grow and live not to fight with each other, so we should respect their loss.
The head bowed down itself in front of them automatically.
Remembering our fighters struggle to make India free give the courage to win the world.
Independence day is proof for the rest of the world that Indians are not gonna lose their respect except they can give their breath.
Our every breath of freedom belongs to our martyrs.
We must make them proud of us by doing great work as they did for us.
Eyes becomes wet when we recall them, their miseries and pain.
More quotes…
Our country is our mother whom we respect, love and praise like our own mother.
Freedom fighters were must be the form of gods who born or died to give us life.
We Indians hold some uniqueness which makes everyone fall for our culture.
freedom fighters indeed were bravest but we can also give our life when it is needed for our country.
We are not saying that we are perfect but we are always looking and improving for it.
they don't quit after knowing that they can lose everything therefore they won.
In India you can see people having and fulfilling dreams much bigger than their status that's the courage we received from our ancestors.
They were real gems who lose life without getting anything.
We love our mother India more than our life.
We are weird with huge hearts having love and respect for everyone.
India's land has numerous stories told or untold.
Our Flag is pride and reminders of the loss of our martyrs.
They give us freedom so we must use it the way they want for everyone happiness and peace.
——————————————Best Status and quotes on INDEPENDENCE DAY—————————————–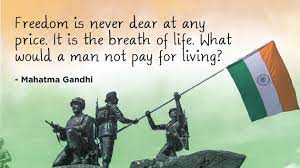 Believe it or not India is the most colourful and fascinating country.
Martyrs are the noblest and respectable position a human can hold.
If Fighting for your right is big deal then think about those who give their life for others rights and life.
We live in our mother lap with all love and respect for each other.
We see dreams and we have enough courage to achieve them at any cost.
Very few people exist in this world whose legacy is universal.
——————————————Best Status and quotes on INDEPENDENCE DAY—————————————–
Want to know about India more? ask it from someone who is from India but does not live here.
Think about the clarity of our freedom fighters that made them able to face death with a smile.
Our country is the mother, therefore here emotions are more important than the economy.
Indians can be away from India but India can not be away from Indians.
If 1% of their dedication we hold like freedom fighters, we can win over this whole world.
Love is always lost for lovers like our fighters lose their life for the love of their country.
Seeing the flag give us the courage to do something for our country.
Independence day reminds us of our inside fighter and warrior.